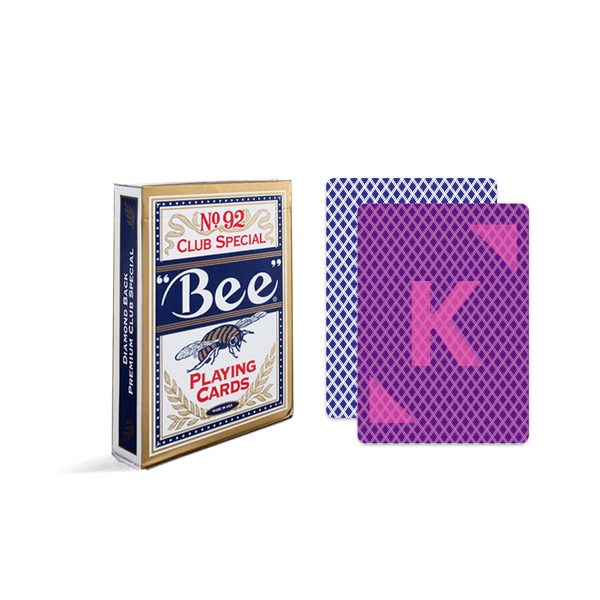 Invisible marked playing cards for Infrared UV lenses means you have to wear a pair of UV or IR poker contact lenses to read markings on the back of the…
Please click below to contact us
Chat Now
Description
Invisible marked cards for Infrared UV Lenses means that you need to wear a pair UV or IR contact lenses in order to see the markings on the cards. USPCC produces Bee playing cards and Bicycle playing card. These are the most common casino poker cards in America.
In order to meet market demands, we are eager to convert popular playing cards into cards marked with invisible ink. Here are some information about invisible ink-marked cards.
The luminous ink marked or juice marked cards can be used for UV (IR contact lenses. All brands of poker cards, including BEE, can be transformed into invisible cards. You can mark these invisible cards with an ink pen, or have them processed by our technical staff. You can choose to mark the card with a font, a number or patterned patterns in the middle or corners.
Contact lenses and invisible ink cards are the best way to cheat at poker. UV (IR), contact lenses are a poker cheating tool that can be used on ink-marked playing cards. You can see the invisible markings after wearing these poker contact lenses. They look just like normal cosmetic contact lenses, which are both safe and easy to wear. They will not alter the color of your eyes. You can choose the right color for poker games and poker tricks to protect your secret.
Choose the Bee playing cards you like and we will process it for you!
Additional information
| | |
| --- | --- |
| Option | Jumbo Index / Blue / Barcode, Jumbo Index / Blue / Infrared Marks, Jumbo Index / Blue / Ultraviolet Marks, Jumbo Index / Red / Barcode, Jumbo Index / Red / Infrared Marks, Jumbo Index / Red / Ultraviolet Marks, Standard Index / Blue / Barcode, Standard Index / Blue / Infrared Marks, Standard Index / Blue / Ultraviolet Marks, Standard Index / Red / Barcode, Standard Index / Red / Infrared Marks, Standard Index / Red / Ultraviolet Marks |