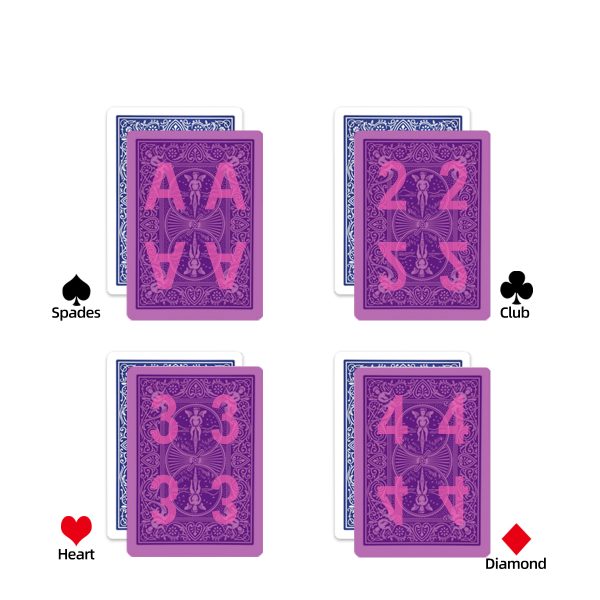 Royal invisible ink marked playing cards are used for poker or any other standard card game. They are original royal plastic cards made in Taiwan, China. Royal cards feature several…
Please click below to contact us
Chat Now
Description
You can use these cards for any standard card game, including poker. These are the original Royal plastic cards, made in Taiwan. Royal cards have a variety of stylish designs on the back with geometric patterns. These cards are durable, washable and highly playable without compromising their durability. These cards are imported from their country of origin and marked by a printer using specialized ink.
Royal marked cards with luminous markings need to be used with other cheating devices, as our naked eye cannot see invisible ink. Invisible ink is not visible to the naked eye. Infrared lenses are required to see this ink. Other players cannot? The appearances of the decks are not enough to reveal the secret. Users with lenses are able to see the large fonts on suits and cards clearly.
Royal invisible ink marked cards allow users to win more money than ever before, even without any prior practice. Users can view their opponents during poker gambling. Even if the cards are turned face down, users can see their opponents? Users can determine which bets are best for them based on the results.
Additional information
| | |
| --- | --- |
| Option | Black / Jumbo Index / Double Decks, Black / Jumbo Index / Single Deck, Black / Standard Index / Double Decks, Black / Standard Index / Single Deck, Red / Jumbo Index / Double Decks, Red / Jumbo Index / Single Deck, Red / Standard Index / Double Decks, Red / Standard Index / Single Deck |