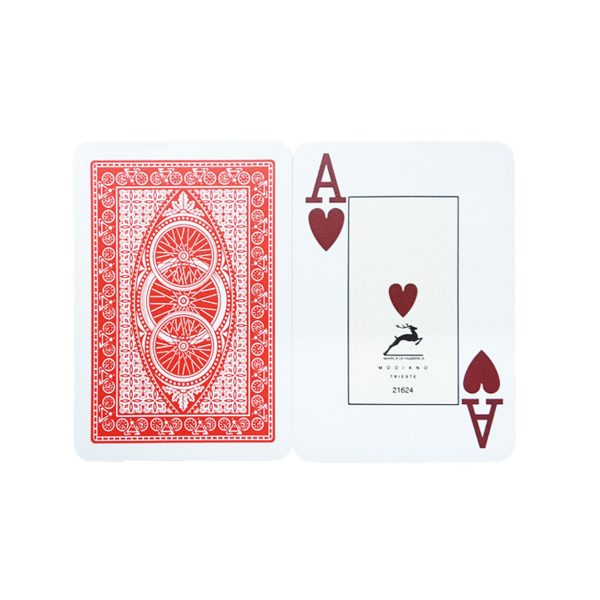 Modiano Jumbo Bike cards with marking ink are plastic playing cards which can last 50 times longer than paper poker cards. Like its name, there are three bike tires on…
Please click below to contact us
Chat Now
Description
Modiano Jumbo Bike playing cards with marking ink can last up to 50 times as long as paper poker cards. Modiano Jumbo Bike cards have three tires, just like their name. They are also poker-sized cards with a jumbo index. Modiano Jumbo Bike Poker Cards are available in only two colors: red and black.
In general, decks marked with invisible ink will perform better when compared to decks that are not. Marking ink is easier to see in bright colors. These Modiano Jumbo Bike decks have ink that is not visible to the naked eye because it's not on the wave band.
In casino gambling, Modiano Jumbo Bike poker cheat cards can perform well. You can improve your chances of winning poker. They are available not only for poker gambling games but also for poker magic shows. These cards help magicians to know what poker cards are chosen by the audience. What? What's more, your audience won't know the secret behind these marked poker cards because there is no difference between Modiano Jumbo Bike marked playing cards and normal Jumbo Bike poker decks. The audience won't be able to guess the secret behind these marked cards, as there is no distinction between Modiano Jumbo Bike marked cards and regular Jumbo Bike decks.
Additional information
| | |
| --- | --- |
| Option | Blue / Invisible Ink Contact Lenses / Barcode, Blue / Invisible Ink Contact Lenses / IR & UV, Blue / Poker Scanner System / Barcode, Blue / Poker Scanner System / IR & UV, Red / Invisible Ink Contact Lenses / Barcode, Red / Invisible Ink Contact Lenses / IR & UV, Red / Poker Scanner System / Barcode, Red / Poker Scanner System / IR & UV |