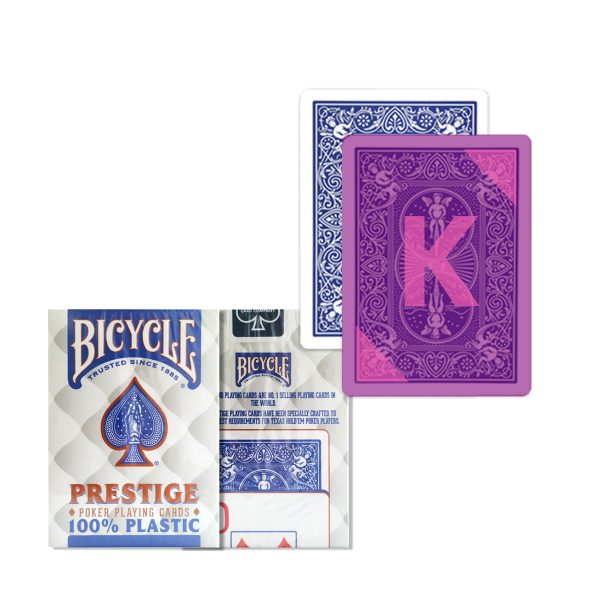 Prestige Bicycle marked playing cards are the popular cheating devices in poker tricks. Bicycle, as one of the most popular poker brands, has been favored by poker players and magicians…
Please click below to contact us
Chat Now
Description
Prestige Bicycle marked cards are popular cheating devices used in poker tricks. As one of the world's most popular poker brands Bicycle is favored by both poker players and magicians around the globe. Prestige Bicycle deck is the most popular and representative of Bicycle brand. It is a deck that offers unsurpassed durability and flexibility. It's the only card that is 100% plastic but has a paperlike feel. Prestige Bicycle cards are sold in poker clubs and magic shows, as well as gambling casinos.
Prestige Bicycle Poker Decks are marked by our company using special ink on a poker printer. Prestige Bicycle cheat cards for contacts lenses are marked at the back. Many poker players prefer a large font in the center because it can be clearly seen from a distance of 3 meters.
These marked cards will last several months after printing, even if they are played frequently. If you do not open the package, then these luminous marks will last for about 1-2 year. The luminous marks can last for about 1-2 years if you don? Our marking ink is invisible to the naked eye. Prestige marked Bicycle Cards and original poker cards look identical. It won't cause other players?? It won? suspicion.
Additional information
| | |
| --- | --- |
| Option | Jumbo Index / Blue / Barcode, Jumbo Index / Blue / IR & UV Markings, Jumbo Index / Red / Barcode, Jumbo Index / Red / IR & UV Markings, Standard Index / Blue / Barcode, Standard Index / Blue / IR & UV Markings, Standard Index / Red / Barcode, Standard Index / Red / IR & UV Markings |