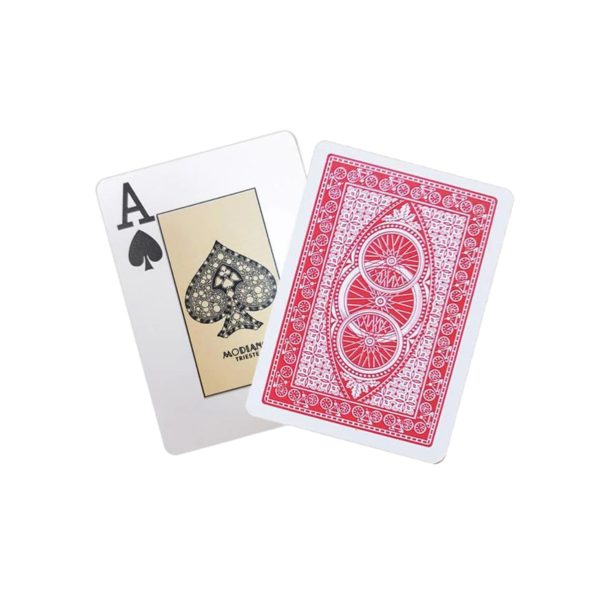 How can the Modiano Golden Trophy cards with luminous marks work in poker tricks? In some places, the Modiano Golden Trophy marked deck of cards might be used in poker…
Please click below to contact us
Chat Now
Description
How can Modiano Golden trophy cards with luminous markers be used in poker tricks and how do they work? The Modiano Golden Trophies marked cards are sometimes used instead of clean playing cards for poker games in some places. In order to read the markings and signs on the backs of the marked Modiano Golden trophy cards, users can use infrared contacts lenses. Since the luminous mark is not visible to the naked eye and without the correct infrared reader they cannot see anything at all. You can make smart decisions by knowing the cards of your opponents and placing bets.
In our company we have all the models of Modiano Golden Trophy marked cards, in both blue and red, with big luminous marks or smaller ones in the corners or in other markings. Blue and red marked cards can both have high-quality marks. Here you can choose between a double deck of 1 red deck and 1 blue deck, or single decks including jumbo index, regular index, or 4 PIP Index.
Please contact us if you wish to know more.
Additional information
| | |
| --- | --- |
| Option | Blue / Double Decks / Infrared Marks, Blue / Double Decks / Ultraviolet Marks, Blue / Single Deck / Infrared Marks, Blue / Single Deck / Ultraviolet Marks, Red / Double Decks / Infrared Marks, Red / Double Decks / Ultraviolet Marks, Red / Single Deck / Infrared Marks, Red / Single Deck / Ultraviolet Marks |