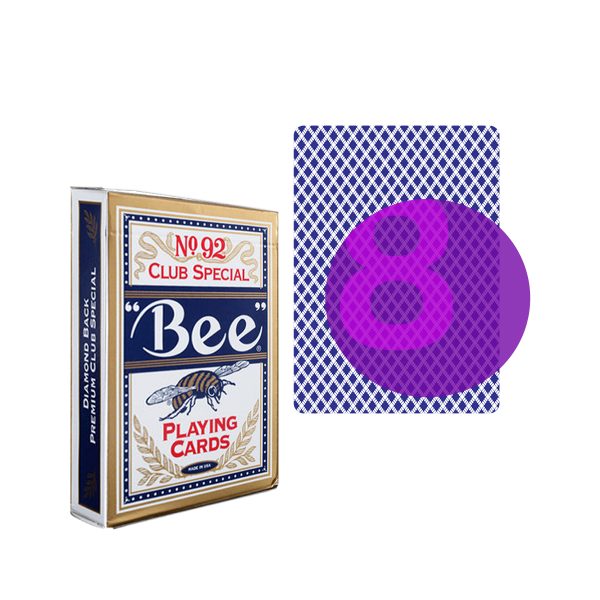 Bee No.77 US marked playing cards have invisible ink marks on their backs. These luminous invisible ink marks can??t be detected unless users wear specialized infrared contact lenses. Through the…
Please click below to contact us
Chat Now
Description
On the back of these cards, there are invisible ink markings. These invisible marks in luminous ink can be detected by wearing special contact lenses. The marks are not visible unless the user wears specialized infrared lenses. Users can clearly see that the deck marked Bee No.77 has a large font in the center.
Bee is one of the many casino cards brands owned by USPCC. They also own Bicycle, KEM Fournier and Aviator. High quality bee playing cards are preferred by many leading casinos. Bee cards have a line of No.77 Poker cards. As its name suggests, the word '?' is on each card. ?No.77?? Spade A.
The cards marked Bee No.77 are made of a plastic-coated material. The cards are made of plastic-coated paper. It may not last as long, but it will last longer than paper playing cards. Bee No.77 can be easily shuffled due to the material. The cards are also waterproof. These cards can be used in most casino poker games like Texas holdem and Blackjack.
Blackjack Cheating Cards with Bee Marked Cards
Take Blackjack for example. Blackjack is an online poker game where players must add up all the points on their cards. Blackjack is a poker game where players add up the cards points. It can't exceed 21 points. If you are able to see your opponent's cards, it will be easier for you. You can decide if you want to keep the card or not by comparing it with your opponents' cards. Poker with Bee No.77 US-marked cards will increase your chances of winning.
Additional information
| | |
| --- | --- |
| Option | Jumbo Index / Blue / Infrared Contact Lenses, Jumbo Index / Blue / Poker Analyzer, Jumbo Index / Red / Infrared Contact Lenses, Jumbo Index / Red / Poker Analyzer, Poker Size / Blue / Infrared Contact Lenses, Poker Size / Blue / Poker Analyzer, Poker Size / Red / Infrared Contact Lenses, Poker Size / Red / Poker Analyzer |