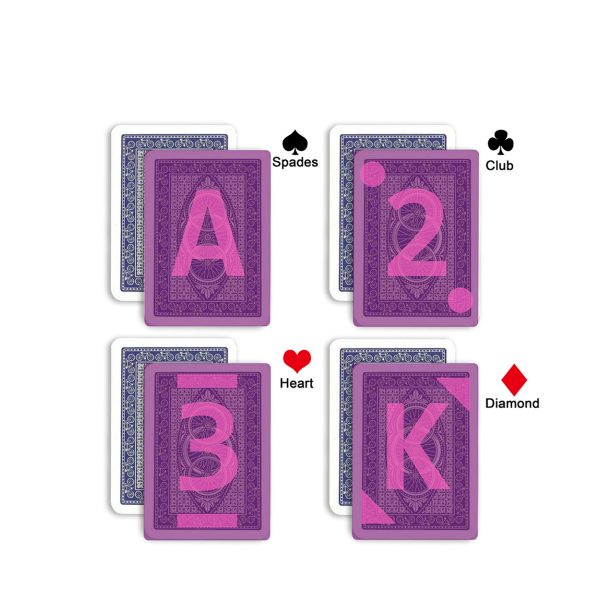 When it comes to Modiano Poker Index best marked decks, you must know they are 100% plastic cards which are extremely playable without sacrificing durability, resilience, or sharpness. 100% plastic…
Please click below to contact us
Chat Now
Description
Modiano Poker Index decks are 100% plastic, which makes them extremely playable, without sacrificing durability or sharpness. 100% plastic marked playing cards often last 100 times longer than those made from paper or plastic. 100% plastic cards are durable, washable, resistant to crimping, waterproof, and highly durable. This is why it's the best marked deck, after marking with an invisible marker kit.
The deck is also characterized by a unique feature, which makes it easily identifiable. Modiano Poker Index is also known as Peek Index. What is peek Index? What is index? Modiano cards match 2 jumbo, 2 standard or 4 jumbo and 4 standard numbers in the corners. Peek index is a coexistence of 2 jumbo indexes with 4 pip standard indexes. There are 6 different colors available, including: reds, blues, greens, oranges, purples, browns, etc.
For the markings, we offer a customer-designed service. Please feel free to ask us any questions you may have about Modiano Poker Index marked decks.
Additional information
| | |
| --- | --- |
| Option | Blue / Infrared Contact Lenses / Barcode, Blue / Infrared Contact Lenses / IR & UV, Blue / Poker Cheat Glasses / Barcode, Blue / Poker Cheat Glasses / IR & UV, Red / Infrared Contact Lenses / Barcode, Red / Infrared Contact Lenses / IR & UV, Red / Poker Cheat Glasses / Barcode, Red / Poker Cheat Glasses / IR & UV |