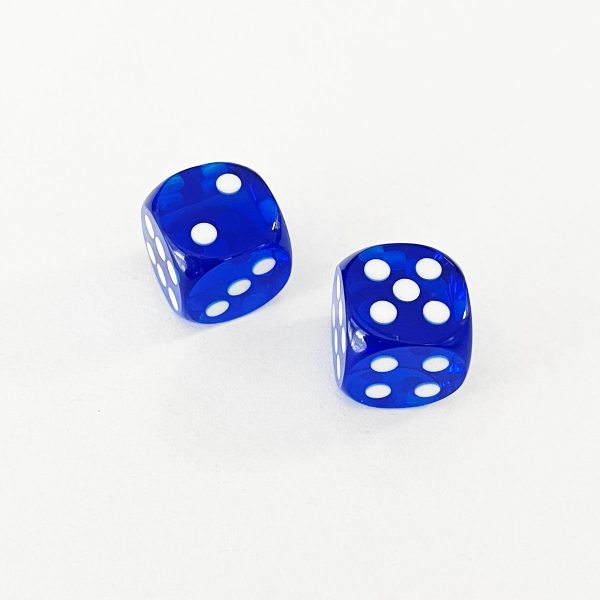 Recently, our company has launched the newest dice cheating device which is called voice dice. Many dice players fall in love with it as soon as it makes the first…
Chat Now
Description
Voice dice is the newest cheating device that our company released recently. The powerful functions of this device make many dice players fall in lust with it the moment it is introduced. Here are some details about the voice or sound dice used in magic shows and casino games.
In the beginning, a small sensor transmitter and a rechargeable battery will be installed inside of the talking dice. A smartphone is required to download a voice dice-specific APP. Then, since each cheating die has its own QR code, you will have to scan it with the APP. This is the only way the app can know which dice to use and send you the right results via Bluetooth. You can treat it like a different type of induction die. It is important to note that if five dice are used in the game it is essential to scan the QR Code of each sound dice. If you don't, the result will be wrong. You can win dice games, such as Backgammon.
Voice dice has some unique features. In the first place, magic sound dice are completely secure because they cannot be detected due to their perfect appearance. Aside from this, the high accuracy leaves the users feeling depressed. Since each dice has a unique characteristic, others cannot detect them even though they share the same phone application with you. Similarly, the frequency of the sound dice used to cheat cannot be detected. The voice dice also has inductive charging. This means that you don't have to worry about the power going out or changing batteries.
What a magic cheating casino voice dice!
Additional information
| | |
| --- | --- |
| Option | Black / Acrylic / Casino Games, Black / Acrylic / Dice Cheat, Black / Acrylic / Magic Shows, Black / Acrylic / Party Gambling, Black / Others / Casino Games, Black / Others / Dice Cheat, Black / Others / Magic Shows, Black / Others / Party Gambling, Black / Plastic / Casino Games, Black / Plastic / Dice Cheat, Black / Plastic / Magic Shows, Black / Plastic / Party Gambling, Black / Rubber / Casino Games, Black / Rubber / Dice Cheat, Black / Rubber / Magic Shows, Black / Rubber / Party Gambling, Blue / Acrylic / Casino Games, Blue / Acrylic / Dice Cheat, Blue / Acrylic / Magic Shows, Blue / Acrylic / Party Gambling, Blue / Others / Casino Games, Blue / Others / Dice Cheat, Blue / Others / Magic Shows, Blue / Others / Party Gambling, Blue / Plastic / Casino Games, Blue / Plastic / Dice Cheat, Blue / Plastic / Magic Shows, Blue / Plastic / Party Gambling, Blue / Rubber / Casino Games, Blue / Rubber / Dice Cheat, Blue / Rubber / Magic Shows, Blue / Rubber / Party Gambling, Green / Acrylic / Casino Games, Green / Acrylic / Dice Cheat, Green / Acrylic / Magic Shows, Green / Acrylic / Party Gambling, Green / Others / Casino Games, Green / Others / Dice Cheat, Green / Others / Magic Shows, Green / Others / Party Gambling, Green / Plastic / Casino Games, Green / Plastic / Dice Cheat, Green / Plastic / Magic Shows, Green / Plastic / Party Gambling, Green / Rubber / Casino Games, Green / Rubber / Dice Cheat, Green / Rubber / Magic Shows, Green / Rubber / Party Gambling, Red / Acrylic / Casino Games, Red / Acrylic / Dice Cheat, Red / Acrylic / Magic Shows, Red / Acrylic / Party Gambling, Red / Others / Casino Games, Red / Others / Dice Cheat, Red / Others / Magic Shows, Red / Others / Party Gambling, Red / Plastic / Casino Games, Red / Plastic / Dice Cheat, Red / Plastic / Magic Shows, Red / Plastic / Party Gambling, Red / Rubber / Casino Games, Red / Rubber / Dice Cheat, Red / Rubber / Magic Shows, Red / Rubber / Party Gambling, White / Acrylic / Casino Games, White / Acrylic / Dice Cheat, White / Acrylic / Magic Shows, White / Acrylic / Party Gambling, White / Others / Casino Games, White / Others / Dice Cheat, White / Others / Magic Shows, White / Others / Party Gambling, White / Plastic / Casino Games, White / Plastic / Dice Cheat, White / Plastic / Magic Shows, White / Plastic / Party Gambling, White / Rubber / Casino Games, White / Rubber / Dice Cheat, White / Rubber / Magic Shows, White / Rubber / Party Gambling, Yellow / Acrylic / Casino Games, Yellow / Acrylic / Dice Cheat, Yellow / Acrylic / Magic Shows, Yellow / Acrylic / Party Gambling, Yellow / Others / Casino Games, Yellow / Others / Dice Cheat, Yellow / Others / Magic Shows, Yellow / Others / Party Gambling, Yellow / Plastic / Casino Games, Yellow / Plastic / Dice Cheat, Yellow / Plastic / Magic Shows, Yellow / Plastic / Party Gambling, Yellow / Rubber / Casino Games, Yellow / Rubber / Dice Cheat, Yellow / Rubber / Magic Shows, Yellow / Rubber / Party Gambling |