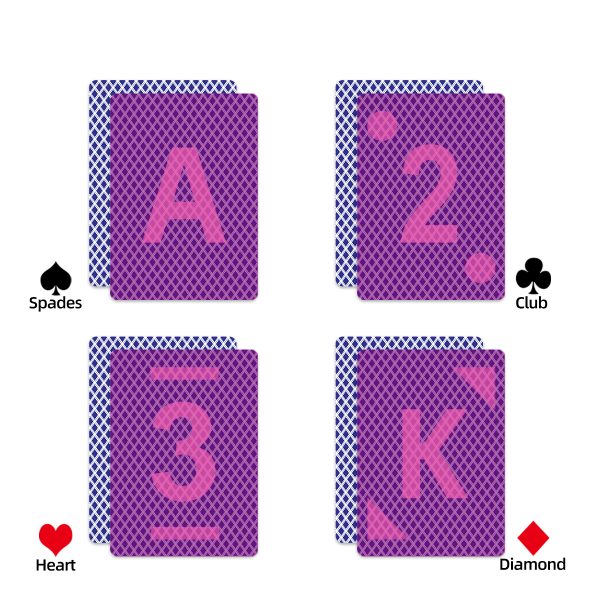 Introduction of Bee Pinochle Playing Cards Bee Pinochle Playing Cards are a special deck created especially for the enjoyment of the Pinochle game and is very popular used in USA….
Please click below to contact us
Chat Now
Description
Bee Pinochle Cards: Introduction
Bee Pinochle playing cards are specially designed for the Pinochle games and are very popular in the USA. This card features the same diamond-back design as other Bee cards and classic red and black colors. This card is used by many poker rooms, both public and private.
What is Bee Pinochle cheating playing card?
Bee Pinochle Cheating Playing Card are the original USA-made playing cards that our technicians will mark with invisible ink. The cards are purchased from the United States Playing Card Company and marked in China with a professional machine.
What is the purpose of Bee Pinochle cheating cards?
Our technicians make Bee Pinochle Cheating Playing cards from the original playing card to satisfy the needs of professional players. Magicians can, for example, use the Bee Pinochle cards marked with invisible ink to improve their performance during magic shows. Infrared lenses can be worn to view the invisible markings on the cards' backs. This allows them to identify the suit and number of each card. With a deck of Bee Pinochle Cheating cards that is marked, it's easy for the magician to determine which card was chosen by the audience.
The Bee Pinochle Cheating Playing Cards also work well with the poker games and casino games that use poker analyzer systems. Poker analyzer systems are usually used by the dealer to alert friends when they're about to win. This cheating card will give you an advantage if you have a dealer who is your accomplice.
Additional information
| | |
| --- | --- |
| Option | Jumbo Index / Blue / Infrared Camera, Jumbo Index / Blue / Infrared Contact Lenses, Jumbo Index / Blue / Poker Analyzer, Jumbo Index / Red / Infrared Camera, Jumbo Index / Red / Infrared Contact Lenses, Jumbo Index / Red / Poker Analyzer, Standard Index / Blue / Infrared Camera, Standard Index / Blue / Infrared Contact Lenses, Standard Index / Blue / Poker Analyzer, Standard Index / Red / Infrared Camera, Standard Index / Red / Infrared Contact Lenses, Standard Index / Red / Poker Analyzer |