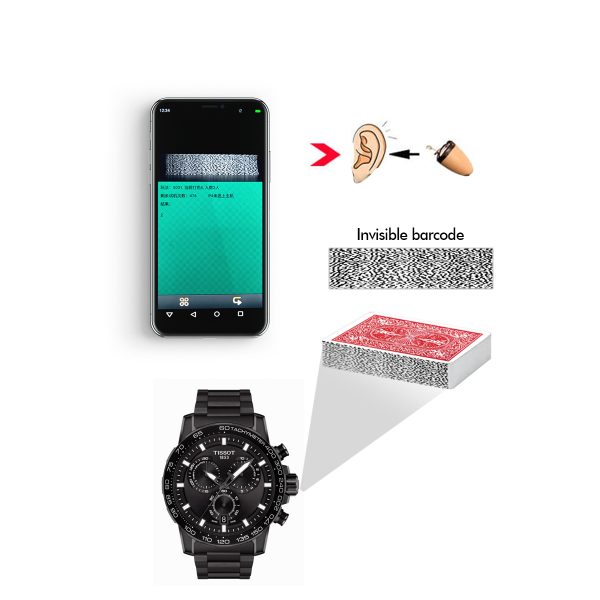 Have you heard about the watch poker camera barcode cards reader? It is different from the camera which is applied to take photos. Wristwatch poker scanning camera is a kind…
Chat Now
Description
Have you heard of the barcode card reader watch poker camera? This is not the same as a camera used to take pictures. The wristwatch poker scanning device is a poker cheating tool that is used to scan invisible barcode cards.
The watch poker camera barcode card reader is, in a nutshell, a watch that has a miniature scanning camera built inside. This scanning camera is able to scan the invisible bar codes on playing cards. The barcode is usually located on the four edges of a card and cannot be seen by the human eye.
The watch is the same appearance as a regular watch. The watches are identical. The poker camera cards reader can be installed into the dial or buckle of the watch. Poker cameras can be matched with different watches. The scanning distance of the barcode card cameras can be adjusted. It ranges from 20 cm up to 40 cm and from 5 cm up to 15 cm. The watch poker camera's battery can last for an hour. It is also replaceable.
The barcode card reader on the watch poker camera should also work with a poker analyser. The barcode is scanned by the playing cards camera, which then sends the signal to a phone analyzer. The poker winner detector then calculates the first and second winners. Wearing a Bluetooth mini can give you the results. The poker analyzers are usually smartphones or other devices.
Poker magic tricks and watch poker cameras are both possible with this device. This barcode card reader for watches can be used with all brands of marked cheating playing cards including Copag, Fournier and Modiano.
There are also many other poker scanning cameras such as lighters, wallets, and mobile power banks. If you're interested, you can find them at our website.
Additional information
| | |
| --- | --- |
| Option | Black / Leather / 1 hour, Black / Leather / 2 hours, Black / Metal / 1 hour, Black / Metal / 2 hours, Gold / Leather / 1 hour, Gold / Leather / 2 hours, Gold / Metal / 1 hour, Gold / Metal / 2 hours, Gray / Leather / 1 hour, Gray / Leather / 2 hours, Gray / Metal / 1 hour, Gray / Metal / 2 hours, Others / Leather / 1 hour, Others / Leather / 2 hours, Others / Metal / 1 hour, Others / Metal / 2 hours |