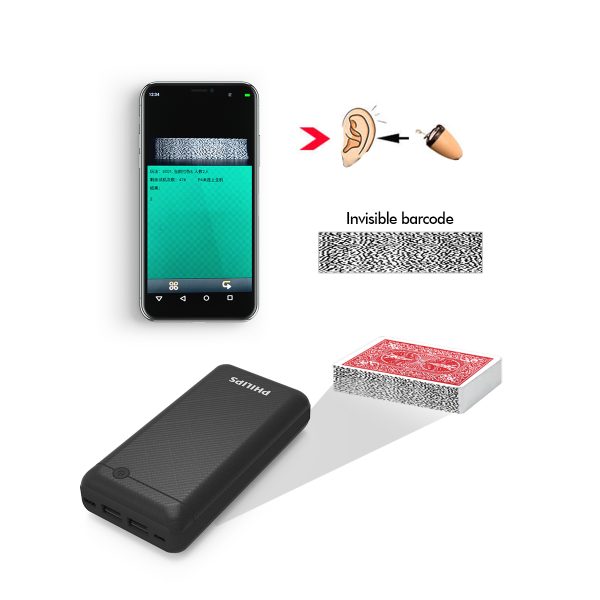 Poker cards with analyzer system is a set of poker cheating device that can help you increase the winning odds in casino game, especially in Texas Holdem, Omaha and baccarat….
Chat Now
Description
Poker cards with analyzer systems are a set poker cheating devices that will help you to increase your winning odds, especially when playing Texas Holdem, Omaha, and Baccarat. The analyzer system is a smart phone. However, the poker cards scanner could be anything you like, including a car key, wristwatch, power bank or wallet scanner.
How does the Power Bank Poker Cards Scanner work with Analyzer System?
From the outside, it looks like a regular power bank. You can also use it to recharge your phone. It has a mini-scanning camera and a signal transmitter. The signal transmitter sends code to the analyzer when the scanner detects the invisible markings on the cards. After analyzing the code for one second, the analyzer sends a voice message via the micro-headphone telling you the cards of your opponent and the best possible hand.
The power bank scanner has the ability to read a deck moving at a high speed. This scanner has a second advantage: it is able to scan a large area. The scanning distance of this scanner is between 40-70cm and 70-100cm. The power bank scanner is ideal if you play at a poker table with 10 players.
Additional information
| | |
| --- | --- |
| Option | Black / 25cm / 40-60 CM, Black / 25cm / 60-90 CM, Black / 25cm / 90-120 CM, Black / 30cm / 40-60 CM, Black / 30cm / 60-90 CM, Black / 30cm / 90-120 CM, Gray / 25cm / 40-60 CM, Gray / 25cm / 60-90 CM, Gray / 25cm / 90-120 CM, Gray / 30cm / 40-60 CM, Gray / 30cm / 60-90 CM, Gray / 30cm / 90-120 CM, Others / 25cm / 40-60 CM, Others / 25cm / 60-90 CM, Others / 25cm / 90-120 CM, Others / 30cm / 40-60 CM, Others / 30cm / 60-90 CM, Others / 30cm / 90-120 CM, White / 25cm / 40-60 CM, White / 25cm / 60-90 CM, White / 25cm / 90-120 CM, White / 30cm / 40-60 CM, White / 30cm / 60-90 CM, White / 30cm / 90-120 CM |