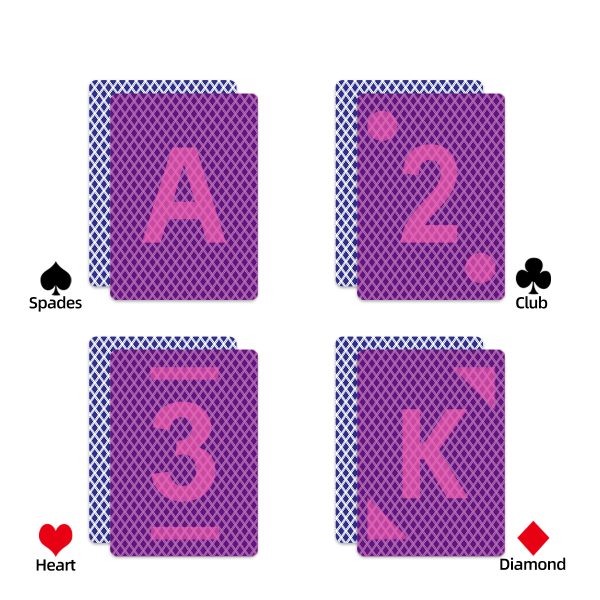 Cheat poker card decks are not only favored by poker players in card games but also an excellent tool for magicians to show their magic tricks. The markings on the…
Please click below to contact us
Chat Now
Description
Cheat Poker Card Decks not only are favored by card players, but they also make a great tool for magicians who want to demonstrate their magic tricks. Wearing infrared glasses or contact lenses, you can see the markings clearly. With your naked eye, you can't see anything. Magic performances also require this characteristic.
Currently, there are cheating poker cards available at a very low price. Their markings can be seen under certain conditions. You can, for example, find out which colors are discordant if you look at the card's back in different angles and under UV blue light.
It is therefore important to choose a high-quality marked poker card deck. Our cheat poker cards will never allow these situations to occur. Since more than 10 years, our company has marked poker card decks. This is an area where we have more control. We have tested and mixed many types of ink powders to create the invisible ink. Material and color will also affect the quality of marked cards. We test the marked cards many times before we print an entire deck of cards.
The best invisible inks and the most advanced printing equipment should be used to create a deck of professional cheating poker cards. Our technicians will also add an extra layer of protection to the deck, which will prevent the markings from wearing off. They can be kept for a very long time.
Modiano Old Trophy is one of the many poker decks that are available at our Marked Cards Mall. Modiano Old Trophy cheating poker cards are packaged individually. Modiano Old Trophy cheating cards are becoming more popular because they can be marked to make them look like real cards.
If you don't like wearing glasses, then the poker analyzer is a good choice.
Additional information
| | |
| --- | --- |
| Option | Blue / Infrared Ink Marks / Invisible Ink Contact Lenses, Blue / Infrared Ink Marks / Luminous Ink Glasses, Blue / UV Ink Marks / Invisible Ink Contact Lenses, Blue / UV Ink Marks / Luminous Ink Glasses, Red / Infrared Ink Marks / Invisible Ink Contact Lenses, Red / Infrared Ink Marks / Luminous Ink Glasses, Red / UV Ink Marks / Invisible Ink Contact Lenses, Red / UV Ink Marks / Luminous Ink Glasses |