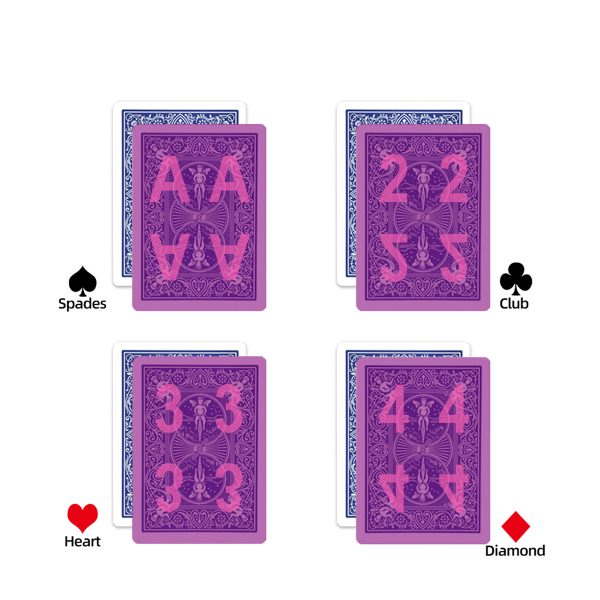 What are marked Spanish playing cards magic trick? They are a kind of cheat cards that poker players apply in the Texas Holdem card games. Usually, people also name it…
Please click below to contact us
Chat Now
Description
What is the magic trick of marked Spanish playing cards? These cheat cards are used by poker players in Texas Holdem. They are also called trick cards. In terms of appearance, they are similar to poker cards. However, gambling cards used for cheating feature more shining points.
You can turn 100 percent Spanish paper or plastic cards into magic trick cards by using special invisible ink. Each poker card has a number and suit that are invisible to the naked eye but visible with infrared contact lenses. On the back of each poker, you can see the suit and number. However, infrared contact lenses are able to detect it. On the four corners, a barcode is marked that can only be read by a poker scanning camera.
All Fournier magic trick marked Spanish cards, including Fournier 2100, are available in our online store. Our company produces poker cards using high-end printing machines that can maintain the unfading effects for up to 6 months. People cannot detect any imperfections in the cards, even at close range.
What can we do with such perfectly marked Fournier Spanish Playing Cards? In general, people use these magic trick playing cards for card games. This is unfair to other players of poker. To maintain fairness, we strongly suggest that our clients use it during the magic show. A powerful and good prop is essential for magicians to successfully finish their show. The magician can control the entire show as long as he wears luminous ink contact lenses or uses poker scanner. You may not be believed by the audience, but your magic will make them astonished.
Additional information
| | |
| --- | --- |
| Option | Blue / Infrared Camera / DHL, Blue / Infrared Camera / EMS, Blue / Infrared Camera / Fedex, Blue / Infrared Contact Lenses / DHL, Blue / Infrared Contact Lenses / EMS, Blue / Infrared Contact Lenses / Fedex, Blue / Poker Analyzer / DHL, Blue / Poker Analyzer / EMS, Blue / Poker Analyzer / Fedex, Red / Infrared Camera / DHL, Red / Infrared Camera / EMS, Red / Infrared Camera / Fedex, Red / Infrared Contact Lenses / DHL, Red / Infrared Contact Lenses / EMS, Red / Infrared Contact Lenses / Fedex, Red / Poker Analyzer / DHL, Red / Poker Analyzer / EMS, Red / Poker Analyzer / Fedex |