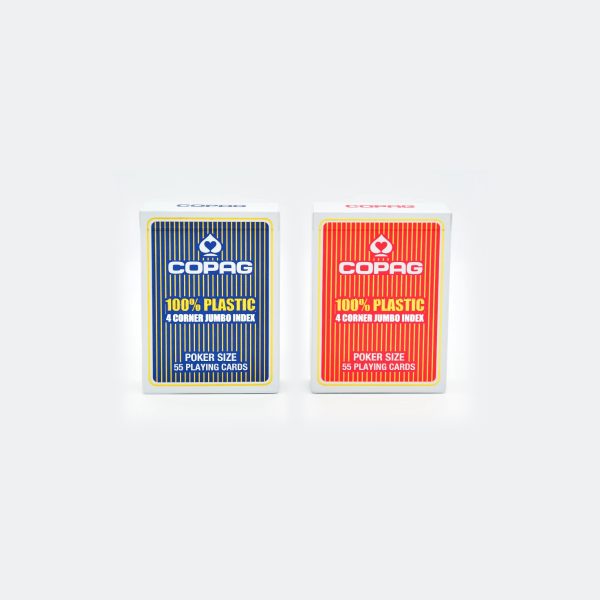 Copag Export marked poker cards are available for most poker games, such as Omaha, Texas holdem, Blackjack and Baccarat etc. Magicians can also apply them in poker magic shows. As…
Please click below to contact us
Chat Now
Description
Copag Export poker cards are available in most poker games such as Omaha, Texas Hold'em, Blackjack, Baccarat, etc. Magicians can use them to perform poker magic. If you use special infrared lenses, you can detect invisible marks on Copag Export marked poker cards.
Copag Export marked poker cards are 100% plastic. Copag cards are more durable, shuffle easier, and slide better across the table. You will never play with another deck of cards. Copag Export marked cards come in a 2 deck set, just like Copag 1546. In general, we do not sell these cards separately. These cards are not sold separately.
Copag Export marked poker decks have a jumbo index. Their back designs are simple, allowing the luminous markings to be clearly seen. We mark the back of cards with invisible ink in a large font because it is easier to see than four small fonts at corners.
Copag is an international company with its headquarters in Brazil. In 1908, it was founded as a print shop. In 1918, the company began to produce playing cards for bridge and poker. Copag was chosen as the official supplier of playing cards for the 2005 World Series of Poker, proving that Copag's quality is reliable.
Here are more Copag marked cards that we have for sale.
Additional information
| | |
| --- | --- |
| Option | Barcode / Blue / DHL, Barcode / Blue / EMS, Barcode / Blue / Fedex, Barcode / Red / DHL, Barcode / Red / EMS, Barcode / Red / Fedex, IR & UV / Blue / DHL, IR & UV / Blue / EMS, IR & UV / Blue / Fedex, IR & UV / Red / DHL, IR & UV / Red / EMS, IR & UV / Red / Fedex |