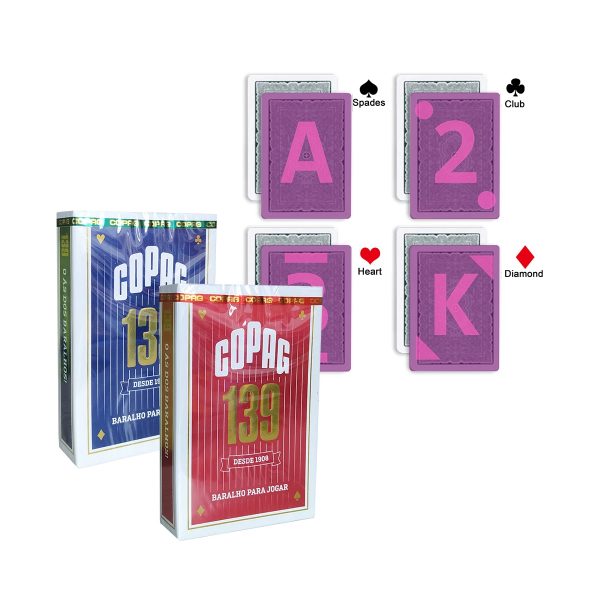 Copag 139 marked poker cards for luminous ink are one of the most popular poker decks in Brazil. Being different from the Copag plastic playing cards, Copag 139 cards are…
Please click below to contact us
Chat Now
Description
The Copag 139 marked cards with luminous ink is one of the most common poker decks used in Brazil. Copag 139 playing cards are paper-based and unlike plastic Copag cards can be marked with luminous markings on the back. The invisible mark performs as well as other Copag marked cards.
The marking of these cards is not difficult and they can be made into high-quality marked cards. Copag 139 marked cards with luminous ink on the back are very visible with infrared glasses or contact lenses. However, they cannot be seen by naked eyes.
Copag 139 marked cards with luminous ink can be marked differently for different games that have different rules. Our technicians can mark your cards with the right marks to suit your game. There are usually three types of ink marks that people like to use. First, there are large marks that indicate suits and numbers on the middle back. Second, there are four small marks at each corner. Third, there are tiny marks on each of the four sides. Our technicians can customize these marks to meet your needs if you require large quantities of Copag-139 marked decks.
Please contact us if you are interested or have questions.
Additional information
| | |
| --- | --- |
| Option | Jumbo Index / Blue / Infrared Camera, Jumbo Index / Blue / Infrared Contact Lenses, Jumbo Index / Red / Infrared Camera, Jumbo Index / Red / Infrared Contact Lenses, Standard Index / Blue / Infrared Camera, Standard Index / Blue / Infrared Contact Lenses, Standard Index / Red / Infrared Camera, Standard Index / Red / Infrared Contact Lenses |