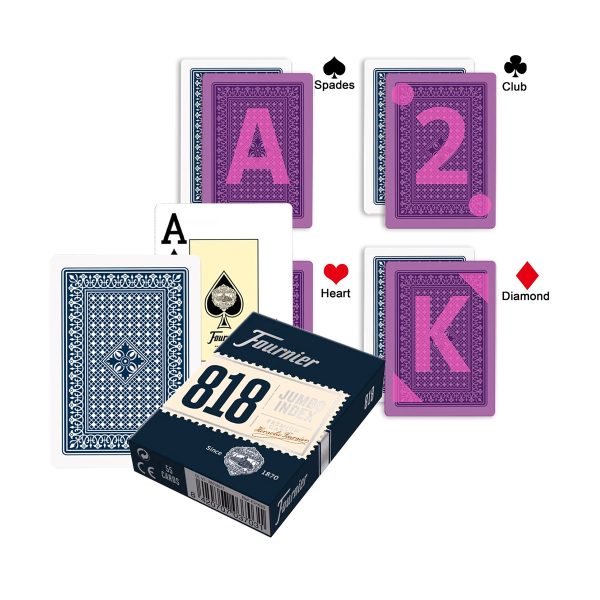 Fournier WPT luminous ink marked playing cards are no longer a novel poker gambling device in the casino games. Since its great practicality, perfect appearance as well as high quality….
Please click below to contact us
Chat Now
Description
Fournier WPT luminous-ink marked playing cards have become a standard in casino poker games. Due to its excellent quality and high-quality, it is also very practical.
The World Poker Tour consists of a series international poker tournaments featuring high-buy-ins, and large prize pools. Fournier is now the official supplier to the World Poker Tour – the most prestigious poker event in the casino. Fournier WPT Playing Cards are 100 percent plastic, and the Fournier luminous ink marked cards also remain intact when dealt or shuffled.
For most players, it works well with infrared contacts. When you wear the marked card reader, there is no need to try to decode luminous ink marks that are on the back of every playing card. Instead, you can quickly glance and see the suit or number. We have the standard pattern for spade. heart. club. and diamond. We have also a simplified pattern for each suit. You can customize the pattern on your Fournier marked cards.
When you adopt the original Fournier WPT Playing Cards, the process with invisible ink won't destroy their original quality, appearance and even touch feel, but will give the cards a special power. The first time you use Fournier playing cards marked with luminous ink, you can't stop smiling.
Additional information
| | |
| --- | --- |
| Option | Plastic / Blue / Infrared Camera, Plastic / Blue / Infrared Contact Lenses, Plastic / Red / Infrared Camera, Plastic / Red / Infrared Contact Lenses |