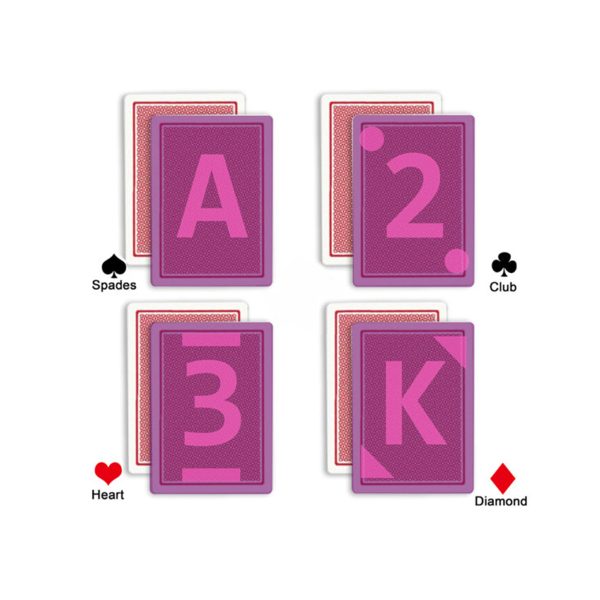 Fournier 2500 marked poker cards are processed with invisible ink with original playing cards from Spain by a professional printer. In this case, our marked cards poker always had better…
Please click below to contact us
Chat Now
Description
A professional printer processes Fournier 2500 marked cards with invisible ink using original playing cards imported from Spain. In this instance, our marked poker cards were always of higher quality than those from other suppliers. We also have three different processes that we use to guarantee the quality of your cards. We will first select the original cards to be marked to ensure that there are no broken or missing cards. When we mark the cards, the second step is to carefully examine the pattern on the card to mix and adjust the ink so that the marks will not be visible to the eye and are clear enough.
Checking the markings on the marked cards is the final step. This is to ensure that there is no error in the card number. It is important that the marks appear clearly under different lights.
We should answer this question more than 100 times per month. Can I mark Fournier marked poker cards using an invisible ink pen. It's not possible. Ink is only part of the technical aspect of the sign. You also have to take into account other factors such as the temperature, humidity and weather. Marks will not be perfect if you don't take into account all the factors.
Additional information
| | |
| --- | --- |
| Option | 2PIP Index / Blue / Barcode, 2PIP Index / Blue / IR & UV, 2PIP Index / Red / Barcode, 2PIP Index / Red / IR & UV, Standard Index / Blue / Barcode, Standard Index / Blue / IR & UV, Standard Index / Red / Barcode, Standard Index / Red / IR & UV |