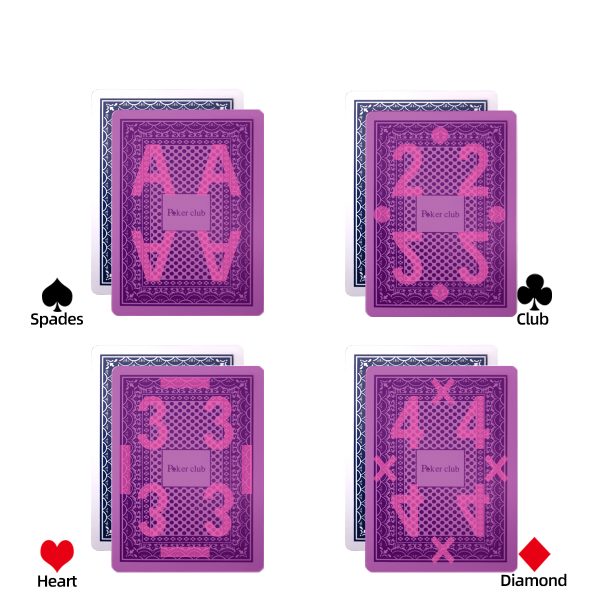 Copag NEO infrared ink marked playing cards are made on the basis of unprocessed COPAG poker cards. For detecting its back suit and number in invisible ink, infrared contact lenses…
Chat Now
Description
Infrared marked Copag NEO playing cards are produced from unprocessed COPAG cards. Infrared lenses or poker cheating devices are the only ways to detect invisible ink on back suits and numbers.
Copag NEO cards are finished with the exclusive true-line B9 finish, which ensures superior handling and durability. The cards were developed to achieve the ultimate flourish and perfect sleight.
The finish was developed after extensive R&D, and over 300 prototypes were tested. Copag NEO marked infrared cards have the same feel as the original cards. Many people like their soft, springy cards and smooth handling. The secret lies not only in the carefully constructed balance of stock, coatings, linen finishes, and cutting, but also our high-tech printing system.
There is no need for a partner. Players can cheat poker by themselves. This is especially true for beginners. We have different patterns that you can use, such as a large font in the center. Four small fonts at the corners, etc. Copag NEO's infrared marking cards can be tailored to meet your specific needs.
Additional information
| | |
| --- | --- |
| Option | Black / Infrared Camera / Barcode, Black / Infrared Camera / IR & UV, Black / Infrared Contact Lenses / Barcode, Black / Infrared Contact Lenses / IR & UV, Black / Poker Analyzer / Barcode, Black / Poker Analyzer / IR & UV, Blue / Infrared Camera / Barcode, Blue / Infrared Camera / IR & UV, Blue / Infrared Contact Lenses / Barcode, Blue / Infrared Contact Lenses / IR & UV, Blue / Poker Analyzer / Barcode, Blue / Poker Analyzer / IR & UV, Brown / Infrared Camera / Barcode, Brown / Infrared Camera / IR & UV, Brown / Infrared Contact Lenses / Barcode, Brown / Infrared Contact Lenses / IR & UV, Brown / Poker Analyzer / Barcode, Brown / Poker Analyzer / IR & UV, Burgundy / Infrared Camera / Barcode, Burgundy / Infrared Camera / IR & UV, Burgundy / Infrared Contact Lenses / Barcode, Burgundy / Infrared Contact Lenses / IR & UV, Burgundy / Poker Analyzer / Barcode, Burgundy / Poker Analyzer / IR & UV, Gold / Infrared Camera / Barcode, Gold / Infrared Camera / IR & UV, Gold / Infrared Contact Lenses / Barcode, Gold / Infrared Contact Lenses / IR & UV, Gold / Poker Analyzer / Barcode, Gold / Poker Analyzer / IR & UV, Gray / Infrared Camera / Barcode, Gray / Infrared Camera / IR & UV, Gray / Infrared Contact Lenses / Barcode, Gray / Infrared Contact Lenses / IR & UV, Gray / Poker Analyzer / Barcode, Gray / Poker Analyzer / IR & UV, Green / Infrared Camera / Barcode, Green / Infrared Camera / IR & UV, Green / Infrared Contact Lenses / Barcode, Green / Infrared Contact Lenses / IR & UV, Green / Poker Analyzer / Barcode, Green / Poker Analyzer / IR & UV, Orange / Infrared Camera / Barcode, Orange / Infrared Camera / IR & UV, Orange / Infrared Contact Lenses / Barcode, Orange / Infrared Contact Lenses / IR & UV, Orange / Poker Analyzer / Barcode, Orange / Poker Analyzer / IR & UV, Purple / Infrared Camera / Barcode, Purple / Infrared Camera / IR & UV, Purple / Infrared Contact Lenses / Barcode, Purple / Infrared Contact Lenses / IR & UV, Purple / Poker Analyzer / Barcode, Purple / Poker Analyzer / IR & UV, Red / Infrared Camera / Barcode, Red / Infrared Camera / IR & UV, Red / Infrared Contact Lenses / Barcode, Red / Infrared Contact Lenses / IR & UV, Red / Poker Analyzer / Barcode, Red / Poker Analyzer / IR & UV |