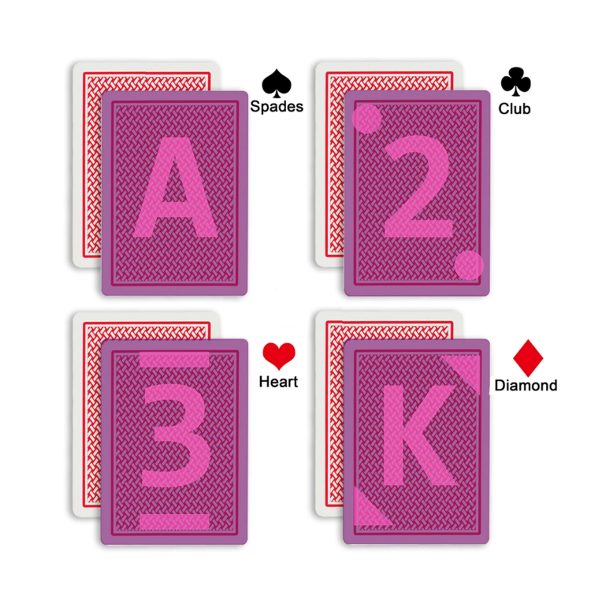 Copag jumbo face poker cards are 100% plastic cards with casino quality. With such professional quality, COPAG playing cards are used worldwide. In the poker cheating products market, Copag poker…
Chat Now
Description
The Copag jumbo-face poker cards are made of 100% plastic and have a casino-quality. COPAG cards are widely used because of their professional quality. Copag Poker Jumbo Face marked Magic Cards are extremely popular in the market for poker cheating products.
How do you make a Copag Jumbo Face marked deck of magic cards? If you have an ink pen that is invisible, you can mark your cards yourself. The hand-made markings are not as effective as those printed on the deck. Some people prefer to use UV ink for their own unique markings. Buy a marked casino magic deck from a reputable marked cards manufacturer. As professional magic cards marking specialists, you need to be aware that they can adjust the invisible ink mix according to different materials, colors and back patterns. The technician sprays a special solution on the back of the cards after the ink has dried. This will extend the time that the card can be used.
We have a number of articles that explain how to read magic ink marks.
There are a number of ways to do this. Wearing invisible ink contacts and luminous glasses is the most common method. Please contact us if you're interested in Copag Jumbo Face-marked magic cards.
Additional information
| | |
| --- | --- |
| Option | Blue / Infrared Camera / Infrared Marks, Blue / Infrared Camera / Ultraviolet Marks, Blue / Infrared Contact Lenses / Infrared Marks, Blue / Infrared Contact Lenses / Ultraviolet Marks, Red / Infrared Camera / Infrared Marks, Red / Infrared Camera / Ultraviolet Marks, Red / Infrared Contact Lenses / Infrared Marks, Red / Infrared Contact Lenses / Ultraviolet Marks |