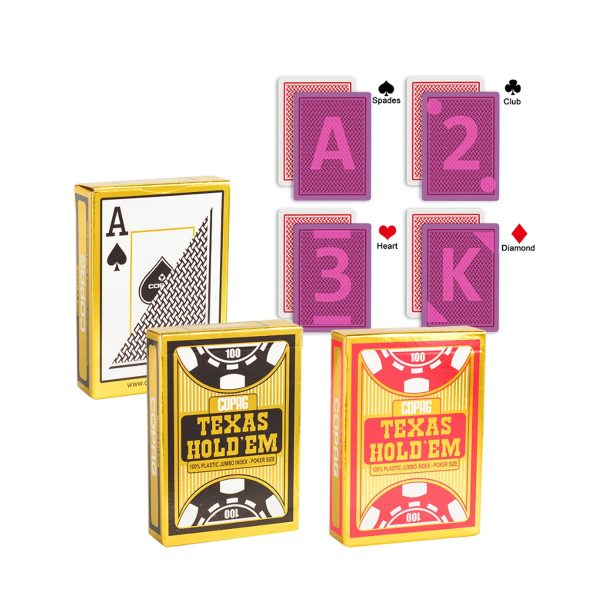 To win in the game, choosing the Copag Marked Cards Class Modern with invisible ink is a good choice for you. What are invisible ink marked cards? They refer to…
Chat Now
Description
If you want to win the game, then the Copag Marked Cards Class Modern in invisible ink are the right choice.
What are cards marked with invisible ink? These are poker cards marked with luminous ink. There are numbers and suits on the back of these cards that can only be seen with IR contact lenses or poker sunglasses. You can take advantage of the fact that no one can see the marks without the use of IR ink contact lenses and poker sunglasses. You can read the marks on the back of the cards by wearing the poker cheating card reader. Copag invisible ink playing cards are available at our online store. They come with no risk, no worry, and no loss.
Obviously, good quality trick-poker cards are a plus. Some poker players hesitate to purchase high-quality Copag cards because of their price. They cannot afford to lose money on inferior playing cards with invisible ink. These people should be reminded that losing at playing deck games is more costly than buying good quality poker products.
Additional information
| | |
| --- | --- |
| Option | Black / Infrared Camera / Bank Transfer, Black / Infrared Camera / Moneygram, Black / Infrared Camera / Western Union, Black / Infrared Contact Lenses / Bank Transfer, Black / Infrared Contact Lenses / Moneygram, Black / Infrared Contact Lenses / Western Union, Black / Poker Analyzer / Bank Transfer, Black / Poker Analyzer / Moneygram, Black / Poker Analyzer / Western Union, Gold / Infrared Camera / Bank Transfer, Gold / Infrared Camera / Moneygram, Gold / Infrared Camera / Western Union, Gold / Infrared Contact Lenses / Bank Transfer, Gold / Infrared Contact Lenses / Moneygram, Gold / Infrared Contact Lenses / Western Union, Gold / Poker Analyzer / Bank Transfer, Gold / Poker Analyzer / Moneygram, Gold / Poker Analyzer / Western Union |