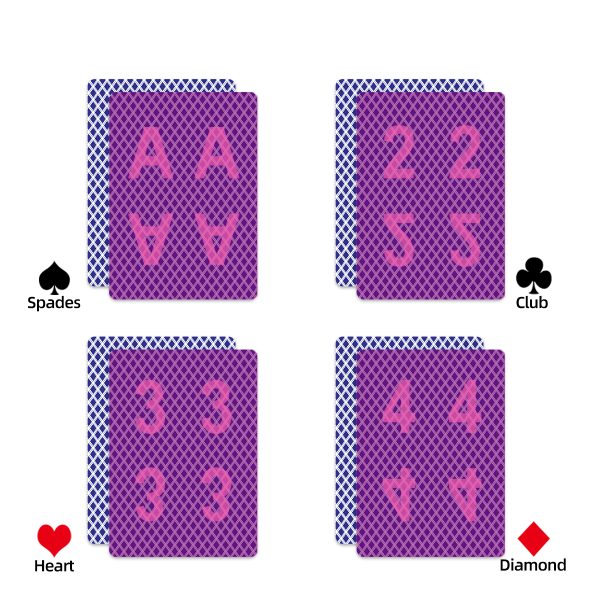 Introduction of Bee WPT Playing Cards Since 2002, the World Poker Tour (WPT) is the most famous poker tournament in the world. Bee WPT playing cards are the official cards…
Please click below to contact us
Chat Now
Description
Bee WPT playing cards: Introduction
Since 2002, World Poker Tour is the most famous tournament of poker in the world. World Poker Tour cards, Bee WPT, are the official cards. Bee playing cards are popular amongst professional players and casinos around the globe because of their Cambric Finish. As well as the design of the royal back in the top picture, the diamond-back design is also beautiful.
What is Bee WPT Marked Cards with Luminous Ink?
Now, you can order Bee WPT marked cards with luminous ink. Our luminous marker is the best on the current market. The invisible marks created with this ink are of excellent quality.
If you wear contact lenses with luminous ink to read the back of Bee WPT-marked cards, you will be able to see clearly each poker hand. By zooming into the community cards at the poker tables, you can accurately calculate your odds. It is obvious that the best way for you to win poker games is by misguiding your opponents. Find your implied odds then make your big blind at the correct time. Whatever way you decide to succeed, Bee WPT plays a vital role in your victory.
In general, Bee WPT marked cards with luminous ink can keep their effect for as long as eight months or even three months. The marked cards are identical to the unmarked BeeWPT cards. There is no need to worry that you will be detected by others. Even when the text is written in casino riffle, it's hard to detect playing cards that have luminous markings.
Please contact us for additional information on Bee WPT Marked Playing Card Luminous Ink.
Additional information
| | |
| --- | --- |
| Option | Jumbo Index / Blue / Infrared Camera, Jumbo Index / Blue / Infrared Contact Lenses, Jumbo Index / Red / Infrared Camera, Jumbo Index / Red / Infrared Contact Lenses, Standard Index / Blue / Infrared Camera, Standard Index / Blue / Infrared Contact Lenses, Standard Index / Red / Infrared Camera, Standard Index / Red / Infrared Contact Lenses |